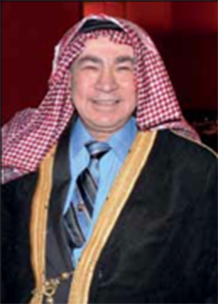 Canadian Arab Network (CAN Media) was founded in the mid eighties by our founder and president Mr. Harry Ziad Malawi Freihat aka(Harry Ziad Malawi) and is geared towards promoting harmony and fellowship between Arab Canadians with each other and with all other Canadians from all descents and creeds at home and abroad.
Mr. Malawi is a Jordanian Canadian citizen. He immigrated to Canada in his early teens in the mid sixty's. After completing high school at Parkdale collegiate institute in Toronto, Ontario, he enrolled into a private college for a business Administration course. He also obtained his pilot's license degree from central airway college at Toronto island airport, and he began to look for employment. Sadly as with most new Canadian immigrants, Mr. Malawi was not able to get a job right away, due to what potential employers at that time referred to as: "Lack of Canadian experience". He then asked himself; "How the heck can I gain Canadian experience, if I just got into the country and no one is willing to give me a chance to prove myself…?" So he decided to venture out into the business world on his own.
Mr. Malawi started in the transportation business, and later on, he expanded into several small businesses, in the tour and travel service and real estate investment, and he was quite successful in most of his endeavours. His businesses grew and expanded despite the rough economic times, which his business went through from time to time. Despite his hectic schedule with his business and family, Mr. Malawi did not forget his roots or his community. He became involved in his community's affairs and volunteered and helped out with many events, venues and projects whenever possible. He also served on many communities and social clubs and organizations' in different capacities.
In the mid-eighties, the Arab population in Canada was scattered throughout the country without any dedicated organization for the new Arab Canadian generation, who were born in Canada and lack the ability to master reading, writing, or speaking the Arab language or understanding the Arab culture. As a gesture of goodwill to his community in general, and to the new young Arab Canadian generation in particular, Mr. Malawi formed the Canadian Arab Network.
Canadian Arab Network (CAN) was based on promoting equality and understanding for all its members' independently, without any affiliation to any political, religious or partisan groups or parties. CAN was also one of the first organizations to lunch the first dual languages community newspaper "Al-Mersal" in both Arabic and English. According to Statistics Canada, in 2006 there were over 957,000 people of Arab origin in Canada. Arab Canadians can be defined as people who speak Arabic and who can trace their lineage to one of the following countries: Algeria, Bahrain, Comoros Islands, Djibouti, Egypt, Eritrea, Iraq, Jordan, Kuwait, Lebanon, Libya, Mauritania, Morocco, Oman, Palestine, Qatar, Saudi Arabia, Somalia, Sudan, Syria, Tunisia, United Arab Emirates and Yemen.
The Arab world, stretching from the Middle East to the Persian Gulf to North Africa, is a highly varied region. Arabs are culturally, linguistically and religiously diverse. Islam, Christianity and Judaism are all represented in the Arab World and are among the major religions in the region. Since its establishment 20 years ago, (CAN), under the guidance and the leadership of our president and founder Mr. Ziad Malawi, has had the honour and pleasure of hosting and sponsoring many events and venues and entertaining Canadians, Arabs and foreign dignitaries, celebrities, and community members through our many charitable events and celebrations.
Among the highlights of such events hosted or initiated by CAN were: Hosting and sponsoring the visits of His Majesty the late King Hussein Bin Talal "May God Bless his Soul" to Canada in 1989. Hosting and sponsoring the 1997 Special Olympic teams from the Middle East to Canada. Mr. Malawi led a humanitarian fact finding mission to Jordan, Palestine and Iraq in 1996, and in 1997; and met with several organizations', individuals, group and ministers and officials from the late previous government of Iraq, as well as meeting with many other factions and common Iraqi citizens. After returning to Canada from Iraq each time, Mr. Malawi conducted several interviews on major television and radio stations and newspapers, such as: CBC, CTV, Global, the Toronto Star, and the Globe and Mail newspapers describing the sad, critical and tragic situation in Iraq, and its effects on the helpless people of Iraq, especially the women, the children and the elderly and the need to help them now.
Mr. Malawi also organized several fund raising drives and managed to send food, clothing and medicine to the needy children of Iraq, Palestine and Jordan with the help of CAN members, and many individual Canadians and corporations, pharmaceutical companies. Mr. Malawi also Sponsored and continue to sponsor a medical doctor's exchange program between Mount Sinai Hospital in Toronto and king Hussein's medical city in Amman, Jordan under the CISPEO program. CISPEO program in cooperation with the Canadian Arab Network has also initiated a tri-lateral initiative between Canada, Jordan and Israel for the past 15 years, in an ongoing joint effort in the interest of strengthening ties between Canada and Jordan, as well as providing health and safety educational services with the latest science and technology techniques, in order to educate the educators and teach the teachers and the medical professionals to help the people of the Middle East, thus promoting peace in the Middle East. Today although CAN is not as active as we love to be due to shortage of funds, despite the global economic hard ship and slowdown, our services are still operating and continuing; include hosting and sponsoring many charitable events, group outings and publishing (Al-Mersal) newspaper, plus many other services and benefits that we provide for our members.
Since CAN (as mentioned above) does not receive any grants from any agency or any government, and relay on membership contributions, CAN looks forward to your support, and welcomes any comments, suggestions, or donations which benefits our community as a whole. For more information about Canadian Arab Network or if you would like to join us, please contact us at
ziadmalawi@canadianarabnetwork.com or give us a call at 1-416-233-9927